About Our Corn on the Cob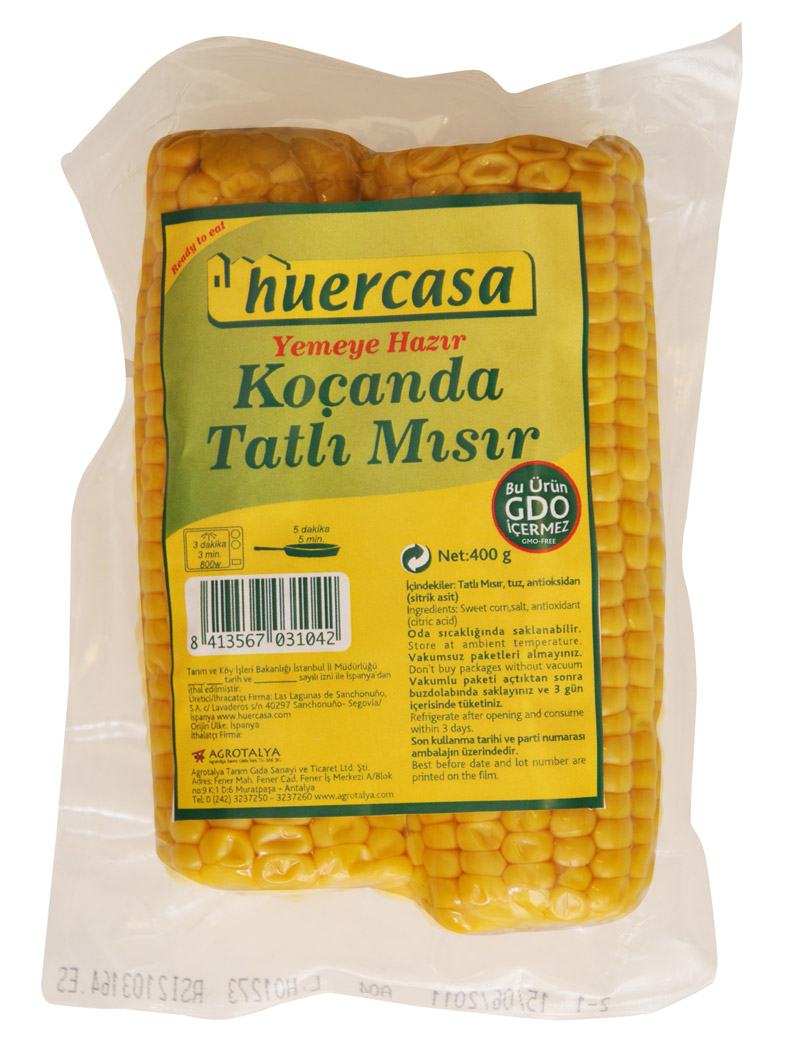 Our corn on the cob is boiled and packed in sterile conditions after the harvesting.
There are 2 cobs in each pack and lengths of the cobs are same.
Ingredients are corn on the cob, salt and very small amount of citric acid to increase the level of antioxidants. There are no extra additives.
The seed of the corns are non-gmo.
Our corn on cob is not a frozen-product, it is a fresh product that is served you in a sterile pack.
Differences Between Normal Corn and Sweet Corn:
Normal corn is in the category of cereals and sweet corn is a vegetable. Normal corn kernels are dry and mature. Sweet corn kernels are soft, juicy and starchy.
Normal corn is mostly used as a feed grain. Normal corn has more fruits per plant compared to sweet corn.
In normal corn production the focus is to more fruits per plant, in sweet corn production the focus is to serve the good taste.
Benefits of Sweet Corn On The Cob
Corn on the cob has starch and vitamin A in it.
When you grill the corn on the cob, ferulic acid level in the corn on the cob increases and that is an antioxidant beneficial for your immune system.
Corn on the cob has vitamin B (thiamin) in it.
How to consume Our Corn On The Cob
Our product is pre-cooked. First take the cobs out of the vacuum pack and either you can heat it in a 800 W microwave for 3 minutes or in a pan for 5 minutes. We suggest you to grease it with vegetable oil or butter before heating.
When you heat the cob, be careful before holding it. You can use sticks to impale on cob and eat in a fun way.
Alerts
Before opening the vacuum pack, keep it cool or at least in room temperature (25 Centigrade).
After opening the vacuum pack, keep it in a refrigerator and consume within 3 days.
Nutritional Values